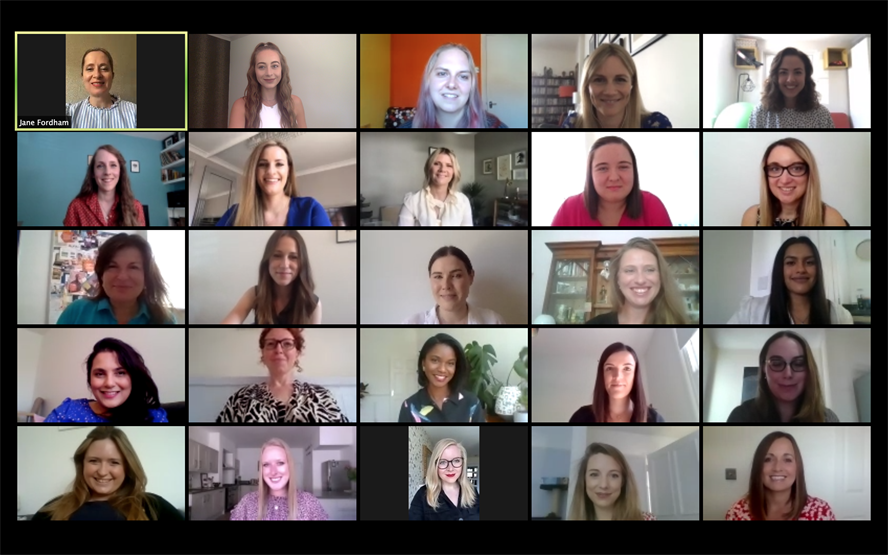 Published 5th Sep 2020
During the past months we have seen incredible connectivity among our Groups to ensure that members and women working in senior positions in PR and communications feel there is a platform to network and share experiences. This article by Laurian Hubbard, Founder and Co-President of Women in PR Cymru tells us of their experiences during Covid-19.
"When we launched Women in PR Cymru in September 2019, we hadn't even considered a blended approach to our 'offer' to include both face-to-face and digital events (a COVID-19 positive outcome).
However, what we did promise our Founding Members was a network to empower, inspire and support women working in PR / Comms in Wales. We wanted to make sure we did not become insular, only focussing on 'our patch.' We were determined to provide our members with an opportunity to look, listen and learn – both within and outside Wales.
2020 started off on a high. We held our inaugural media lunch with the wonderful ITV broadcaster, Andrea Byrne, had CIPR President Jenni Field inspire us over a breakfast and a whole host of activities planned for the year ahead…and then COVID struck and we went in lockdown.
Rachel Moss (my Co-President) and I took a month or so to get into the rhythm of lockdown – as did everyone. We, all of a sudden, became full time teachers, carers, cleaners, chefs, panic buyers, alcohol censures and savvy food shoppers; making sure we 'stayed alert' for those miracle food delivery slots that would appear in the early hours. It was tense.
BUT, what we also wanted to do was to make sure we delivered a programme for our members, recognising the amazing talent of women (and men) working on the pandemic and to stay connected. Despite the pandemic we still wanted to deliver on our promise to empower, inspire and support women.
So how did we do this?
We launched a COVID Leadership series that consisted of four online events (thank you Zoom!) with some fantastic speakers. Over 400 attendees joined us over the course of the series.
The power of technology meant that we could really open up our offer and connect people around the world. As an affiliate of Global Women in PR, and an official group of Women in PR UK, we had an excellent pool of inspirational people to call upon (plus pulling in some favours of our own).
Who did we hear from?

To kick off our virtual series, we were joined by Alex Aiken (Executive Director of UK Government Communications); Claire Pimm (Director for the UK Government COVID-19 Communications Cell) and Cheryl King-McDowall (Deputy Director of Professional Standards for GCS and Cabinet Office Communications).
Together, they talked about their experiences, how they delivered in a time of crisis, kept up momentum and resilience and developed and led teams remotely.
The second episode focused on views from the Wales health frontline – with some honest and inspiring insights from three women who were at the centre of COVID19.
We heard from Joanne Brandon (Director of Communications, Health Charity, Arts and Engagement at Cardiff and Vale Health Board), Lee Leyshon (Head of Communications at Swansea Bay University Health Board) and Karen Newman (Head of Communications at Aneurin Bevan University Health Board).
They talked about the tough choices they had to make; mobilising teams and resources at the epicentre of the pandemic; how they used creativity to connect with the public and how they dealt with the emotional effects of the job.
Episode 3 looked beyond the UK and provided a global perspective of Communicating COVID-19. We wanted to have the experiences from our counterparts across the globe and heard from 3 senior female communications professionals leading the response in America and Asia:
Bess Winston – Managing Director at the Winston Agency in Washington DC,
Mary Beth West – an agency founder in the U.S, now a contract senior strategist for Fletcher Marketing PR and Co-Host of the #MsInterPReted PR podcast and
Shih-Huei – CEO and Co-Founder of Klareco Communications – which operates in Indonesia, Kuala Lumpur, Singapore and Yangon.
For our fourth, and final, episode, we looked at the language of COVID-19 and the power of words, metaphors, slogans and labels with Simon Lancaster, who is one of the world's top speechwriters, authors, trainers and TEDX speakers.
It was a great series and we all learned a lot from our inspirational guests from Wales, London and beyond. Rachel and I also learned a lot about hosting events online and are now re-thinking our programme to adapt and be flexible in having a blended approach as we continue to navigate through the COVID-19 maze and our 'new normal'."
For further information about WPR Cymru please visit their group page