Global Women in PR is proud to have the support of a number of organisations and to work in partnership with them in raising the importance of the role of women in the PR industry.
Partners
We are the UK's leading broadcast PR agency, with more than 25 years of experience in producing market-leading, award-winning campaigns for anyone – from innovative start-ups to the world's biggest brands.
Our creative multimedia campaigns generate local, regional, national and international coverage on modern channels, such as live streaming, mobile, social media and podcasts, and traditional media, such as TV and radio.
Supporters

Opinium is an award-winning strategic insights agency built on the belief that in a world of uncertainty and complexity, success depends upon the ability to stay on the pulse of what people think feel and do. Creative and inquisitive, we are passionate about empowering our clients to make the decisions that matter.
We help our clients harness the power of insight to build, grow, promote and make strategic business decisions.
With over 10 years of experience conducting research for PR, we pride ourselves in getting to know our clients' needs and the issues their brand and industry faces. We have extensive experience researching wide ranging topics amongst consumers and B2B audiences around the world and converting their opinions into compelling thought leadership for agencies and end clients alike.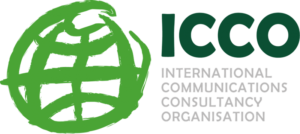 The International Communications Consultancy Organisation (ICCO) is the voice of public relations consultancies around the world. The ICCO membership comprises 41 associations representing 70 countries across the globe: from Europe, Africa, Asia, the Middle East, the Americas, and Australasia. Collectively, these associations represent over 3,000 PR firms..
ICCO provides a forum for senior management of the world's best PR consultancies to meet and address issues of mutual interest and concern.
Members work together to raise standards of quality, address ethical issues, harmonise professional PR consultancy practice, and share knowledge. Through the online directory, ICCO also acts as a matchmaker between consultancies in different countries. Members have an opportunity to meet in person twice a year at meetings of the Board, at the bi-annual ICCO Global Summit and at any number of ICCO partner events.
Global Women in PR is proud to be on the board of ICCO.