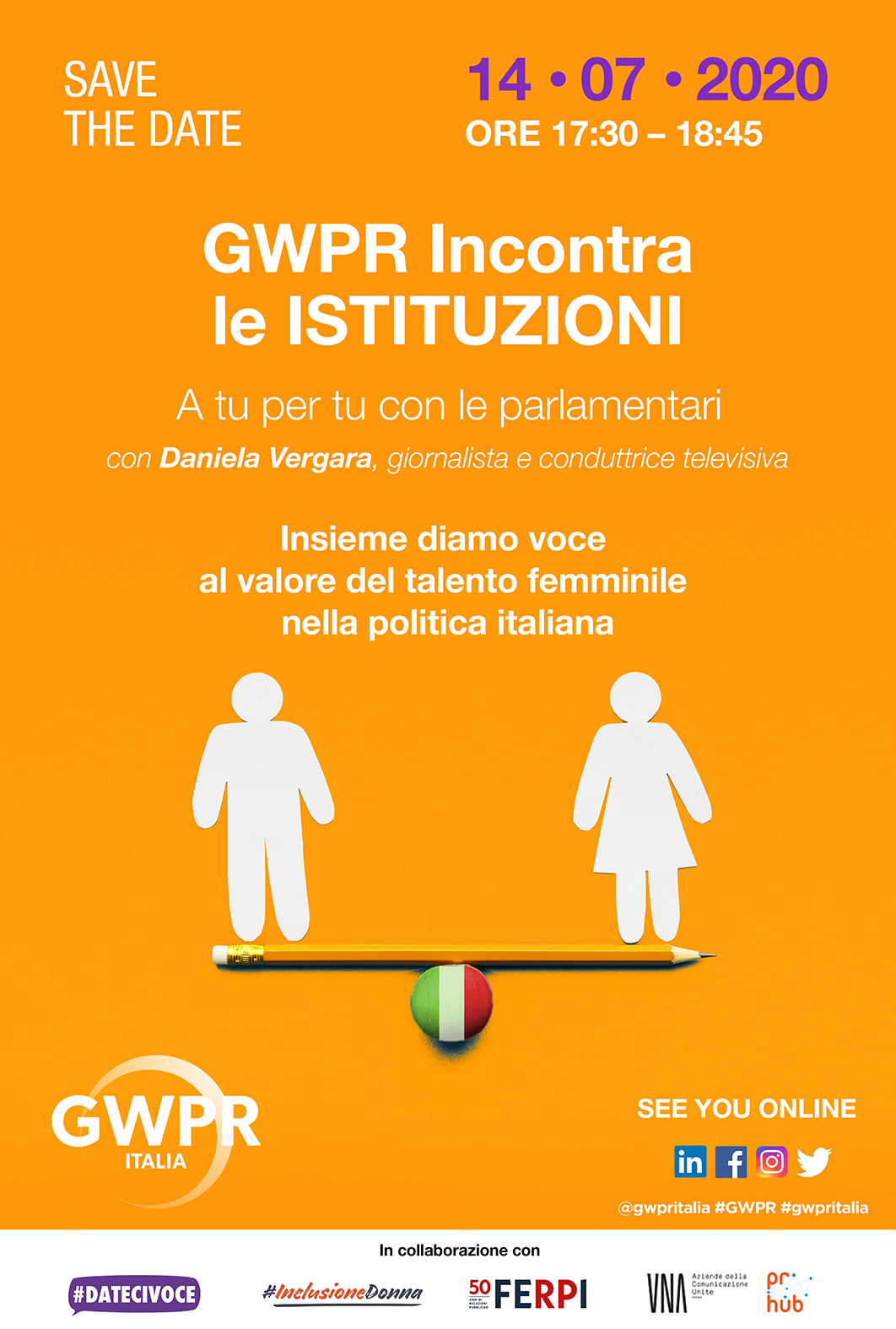 Published 10th Jul 2020
July 14th – 5.30 pm
The next GWPR Italia event is being held on  July 14th at 5.30 p.m., with remote participation, will be devoted to a meeting with Institutions and will feature some female MPs – deputies and senators – of our Republic, representing the Constitutional Arch.
GWPR Italia is reflecting on the impact of male predominance in Italian politics compared to the female representation, and what measures to implement in order to encourage women's political participation.
The purpose of GWPR Italia is to outline a framework of experiences that can generate a real debate, providing positive examples and stimuli capable of fueling a dialogue based on participation, inclusion, fairness and enhancement of female talent.
The firm belief is that only through the involvement of women who represent the widest and most varied type of professional experience (companies, third sector, Institutions), it is possible to build a network of relationships that can influence and quicken the change our Country needs.
Guests will share their experience of professional growth and the challenges they faced to establish themselves in a world where the gender gap is still a sensitive and increasingly topical issue.
Today, women are the protagonists of a process that involves the entire contemporary society. The third millennium is the century of women, together we pursue a future where the issue of gender equality can be definitively overcome.
Special guests:
Stefania Ascari, Deputy M5S
Anna Maria Bernini, Senator FI
Valeria Fedeli, Senator PD
Costanza Hermanin, Deputy Secretary +Europa
Stefania Pucciarelli, Senator Lega
Cristina Rossello, Deputy FI
The debate will also be animated by the presence of:
Rita Palumbo, FERPI Secretary-General (Federazione Relazioni Pubbliche Italiana) and Vice President Terziario Donna Milano, Lodi, Monza e Brianza
Sila Mochi, Co-founder and trait d'union Inclusione Donna
Andrea Cornelli, Vice president UNA PRHub
For more information: