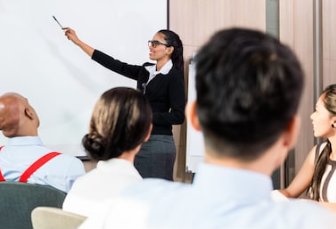 Published 2nd Mar 2020
Flexible working biggest driver for helping women in PR reach boardrooms: first GWPR India Survey report
The India survey initiated by the Global Women in PR (GWPR) assesses barriers and solutions to women PR and corporate communications professionals moving ahead to boardroom and senior management roles.
Based on a sample of 129 respondents from India , research conducted for GWPR by Opinium, shows that representation of women in boardrooms in India is poor. Less than 5% have women dominated boards and 78% have male dominated boardrooms. This inspite of the fact that 84% of the respondents felt that greater gender diversity helps improve work practices in the PR business.
GWPR is set to launch its India chapter this year.
Barriers to women in the PR boardroom
The biggest barrier to women in the PR boards, as in other professions, is because women are the primary child carer. 71% of the respondents also felt that the lack of flexi and family-friendly policies are also a primary reason for their lack of progress to the top leadership slot.
Ipshita Sen, co-founder, Engendered and founder member, GWPR India says, "Workplace flexibility is particularly important for women at junior to middle management levels, as this is the point at which they are trying to balance career ambitions with family aspirations. When companies offer flexible working they are able to retain a higher number of women at mid-management level and as a result are better placed to have more women leaders. Workplace flexibility is a crucial enabler to getting more women into boardrooms."
Another interesting finding, specific to the India survey is that a whopping 72% of the respondents felt that men are responsible for promotions and promote people like themselves.
Sen comments that, "While the problem of lack of women leaders cannot be fixed overnight; ensuring male leaders make an effort to acknowledge of the issues related to gender inequality is important. Because the PR industry is predominantly female at a junior level, it is easy to forget that we have a problem of gender balance."
Sexual Harassment at the workplace
Sexual harassment at the workplace in the PR business, like other industry sectors in India remains an ongoing challenge. The survey finds that 50% of the respondents don't have reports incidents of harassment.
The top offenders flagged off by respondents were colleagues, bosses, journalists and clients:
Recommendations
The report makes several recommendations on improving gender diversity in the boardroom. Chiefly making flexible working more accessible, encourage senior women to act as role models and mentors , be more transparent around recruitment and promotion, Offer the same workplace benefits regardless of gender and Improve paid parental leave policies as well as policies and training on sexual harassment.
This article was published by www.prmoment.com 27th February 2020 – written by Paarul Chand