Published 30th Nov 2022
Summary of the session by Dr Clara Herdeanu, Head of Communications at Xayn and GWPR Empower programme mentee. James Wright is CEO of Red Havas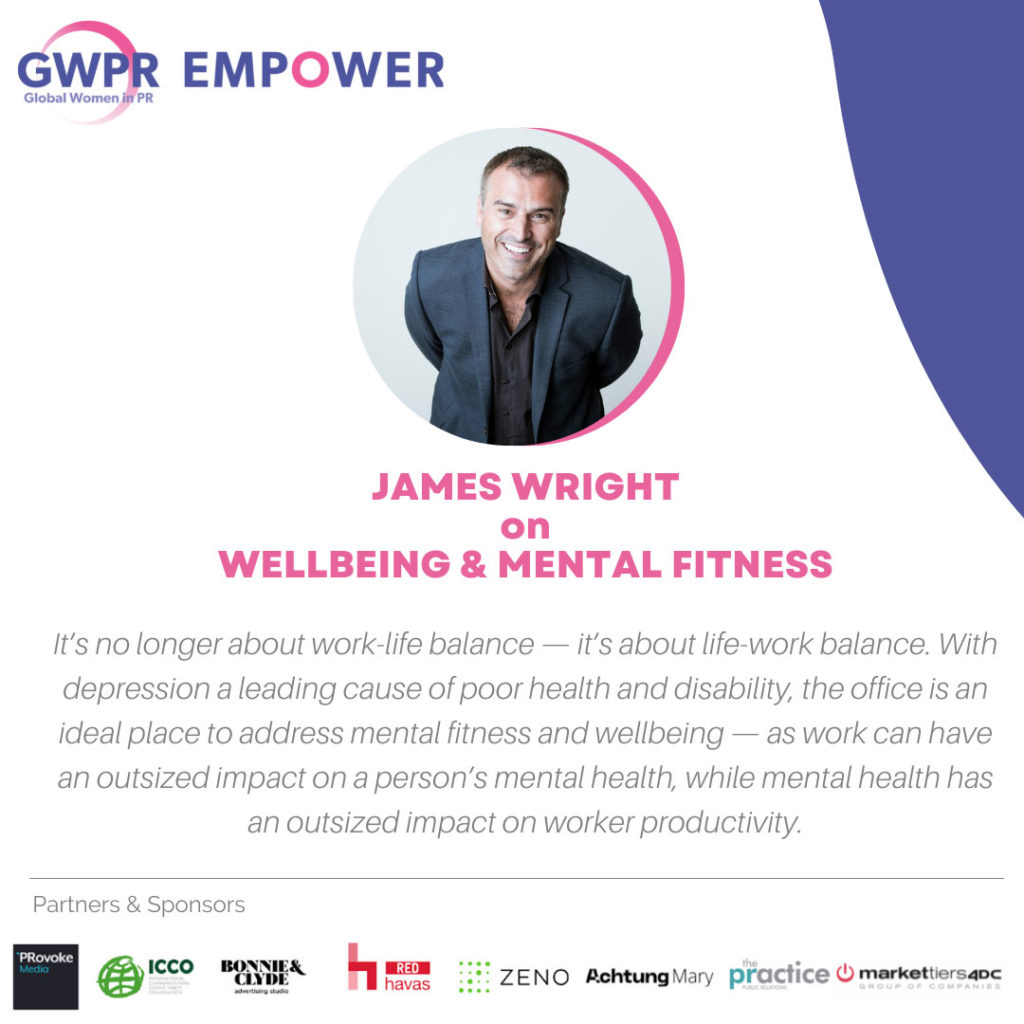 The Covid pandemic has not been a purely physical health crisis, but has also taken its toll on our mental health – be it in our personal lives, or at the workplace. However, Covid has also become a catalyst for building awareness of mental health.
This is why our GWPR Empower Class of mentees was especially honoured to discuss mental fitness in-depth with James Wright, CEO of the PR agency Red Havas Group, member of the GWPR Advisory Board, and outspoken mental fitness advocate. Wright delivered our seventh GWPR Empower Masterclass Session on how to focus on mental fitness in the fast-paced PR work environment.
The Covid pandemic touched all of our lives around the world. In the business environment everyone, from the intern to the CEO, was affected in one way or another and had to adapt. The World Health Organization even reported that anxiety and depression had increased by 25% just in the first year of the pandemic. As a result of this mental health and fitness were brought to the forefront in workplace environments – and it was about time. After all, one in three experienced burnout in the comms industry, according to Wright.
Wright stressed during our session that this shows we've still got work to do. For example, we're still not teaching about mental health in many schools. But we should start as early as possible to educate people about mental fitness because prevention is still the best way to solve problems. And we should focus on dealing with the causes, not only the effects of this phenomenon – even if that's a challenging thing to do.
Caring about their employees can also be widely beneficial for employers. According to 2022 Gallup research employees who believe their employers care about them are 69% less likely to look for a new job, 71% less likely to report significant burnout and 5x more likely to advocate for their company as a place to work. In the current climate where talent retention is a major issue these are important findings.
So what can leaders in the PR industry do for the mental well-being of their team members during stressful times? Wright had us covered on this with some hands-on advice:
Acknowledge that mental fitness is as important as physical fitness. We send flowers to colleagues who have to take time off because they've broken a bone. Why don't we do this for people who take time off because of mental issues?
Encourage empathetic management. Empathy is key, but sometimes hard to grasp. It can help to establish new rituals that focus on mental fitness for example. Establish a quick daily mental fitness rating at the beginning of meetings so that everyone can share how on a scale of 1-10 they're feeling on that day. And to kickstart this new process be the first one to share.
Lead by example. The best programmes don't work if your team members fear following through with them. People in charge have to lead by example. Share a personal story, take some time off after the death of a loved one, or let your team know when you're having a hard time. You don't have to go into details but permitting yourself to let others know how you feel enables them to do the same.
Promote life-work balance. The time of the work-life balance is over. It isn't enough anymore to try to squeeze in your life next to your work. We all should not focus on work-life balance but instead on being in balance in general.
Give the gift of time. Give your teammates time to breathe and let them dedicate a specific time frame during their work week in which they don't work – but rather go for a walk, listen to music, call a friend to chat, or just enjoy the moment. Especially in such a fast-paced environment as the PR industry, it is sometimes difficult to stay creative – and we all can relate to the fact that the best ideas don't appear magically in your head when you're staring desperately at a screen.
After an insightful talk and a lively discussion, Wright left us with some small steps that we can do in our daily life without adding further stress to our already quite packed to-do list. Start with three simple things to take better care of yourself:
Don't forget that self-care doesn't refer only to your mental fitness but also to your physical health. So do the first step for that and drink lots of water. Stay hydrated.
Secondly, try this small but really difficult step – especially for PR people who are used to always being tuned in. Leave your phone at home at least once a day. Leave it at home when you go grocery shopping or take the dog for a walk. In case you really can't find any time to do that – turn it off at least once a day. Turn it off when you commute to work or even better when you're on your way back home.
Last but not least, try to establish meaningful conversations with people around you. Don't stop at the small talk or the latest political developments, but rather try to go deeper and talk to people close to you about what's on your mind and heart. Try to turn this into a habit – and if it helps, find a friend and schedule a weekly call.