Published 26th Jun 2023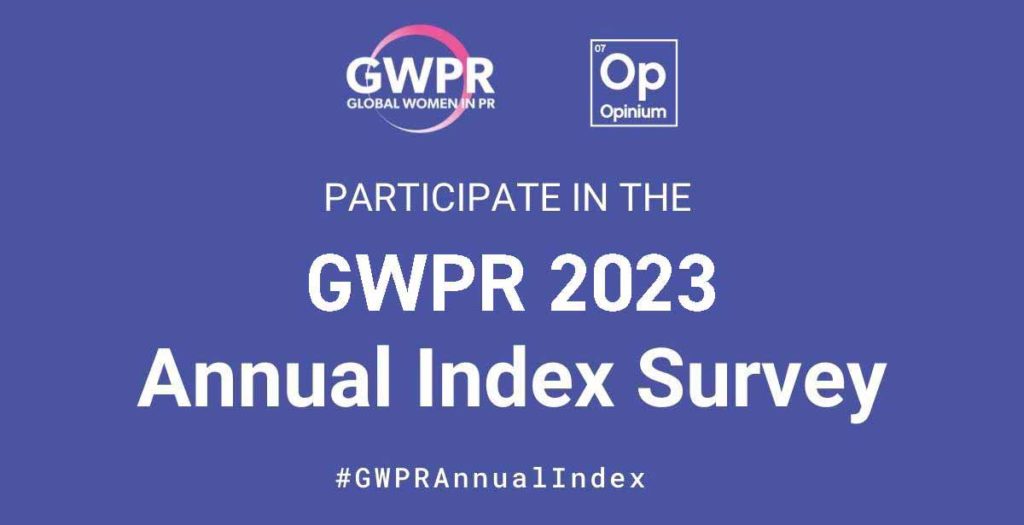 As flexible working practices continue to flourish – how has the landscape changed for women working in our industry?
Despite women accounting for two-thirds of the workforce in PR and Comms, there remains a significant imbalance in the boardroom. But has the acceleration of flexible and remote working practices allowed more women to achieve a better work/life balance and make childcare and/or caring responsibilities easier to manage?
To establish the facts and help find solutions, we are launching the fifth and final edition of our GWPR Annual Index – the only in-depth global research of women working in the PR and communications industry. Please share this survey questionnaire link with all your female colleagues and associates in PR and Communications. The questionnaire is available in English, French, Spanish, German and Italian – see the links here:

Complete the Survey in English
Complete the Survey in French
Complete the Survey in Spanish
Complete the Survey in German
Complete the Survey in Italian

The questionnaire covers:
flexible working
women in the boardroom
barriers to leadership
ageism and discrimination in the workplace
A new question this year is focussed on 'harassment' – not just sexual
The survey closes on Friday 18 August.
The GWPR Annual Index 2023 report will be available this Autumn to download on our Annual Index page. Our thanks to strategic insight agency Opinium for continuing to support GWPR.