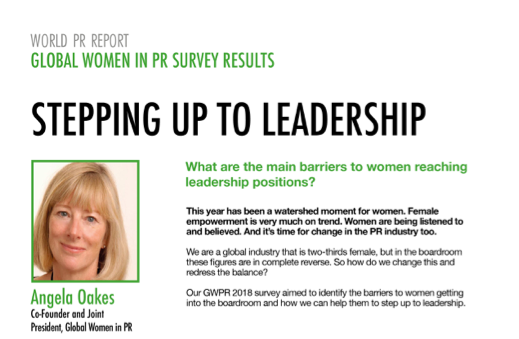 Published 27th Nov 2018
The global PR industry is two-thirds female; but in the boardroom these figures are in complete reverse. So how can we, as an industry, redress the balance?
For our GWPR survey this year we asked global agency leaders what they believed were the barriers to women getting into the boardroom. In addition we asked what organisations could do better to help women #step up to leadership.
Not surprisingly juggling family and work commitments was seen to be the biggest barrier by over half (58%) of respondents. Another significant barrier was believed to be the traditional structure of business favouring men as leaders; highlighted by 45% of respondents.  40% of agency leaders also believed that unconscious bias existed in organisations; yet only 22% offer unconscious bias training to their employees.
Fundamental to addressing the main barrier of family commitments competing with the demands of the workplace would be to have better flexible working policies in place. But we found that although 83% of organisations offered flexible start and finish times; only two-thirds (67%) allowed employees to work from home on a regular basis.
Interestingly, women are not seen to be lacking in the skills and competency needed to be leaders. Only 11% of agency leaders felt that women lacked the required leadership skills.   That said, only 24% of organisation offered leadership training programmes specifically tailored to women.
Though most organisations (68%) have parental leave policies in place – three-quarters (75%) of the parents that take, or are planning to take leave, are women. Only 25% of men and women take parental leave together and a tiny 1% of men plan to take parental leave without their partner.
We need to change business culture, so that it becomes acceptable and the norm for men to take parental leave as well.
In spite of the huge focus worldwide on the gender pay gap, our survey revealed that two-thirds (65%) of PR organisations don't monitor their salaries by gender and 85% of organisations have never published their gender pay gap figures.
We need to be transparent as an industry on this. We know that the gender pay gap exists. It should be mandatory for organisations of all size to monitor their gender pay gap and share the findings. And having more women in senior roles will decrease the gender pay gap.
Retaining talent remains a major challenge in the PR industry. Our research reveals that agency leaders believe the main benefit of having a gender balanced boardroom is employee satisfaction (55%). Other important benefits highlighted were increased creativity (46%) and employee retention (42%).
 Read our feature on Stepping Up to Leadership in the ICCO World PR Report 2018/19 here 
#stepup
#worldprreport