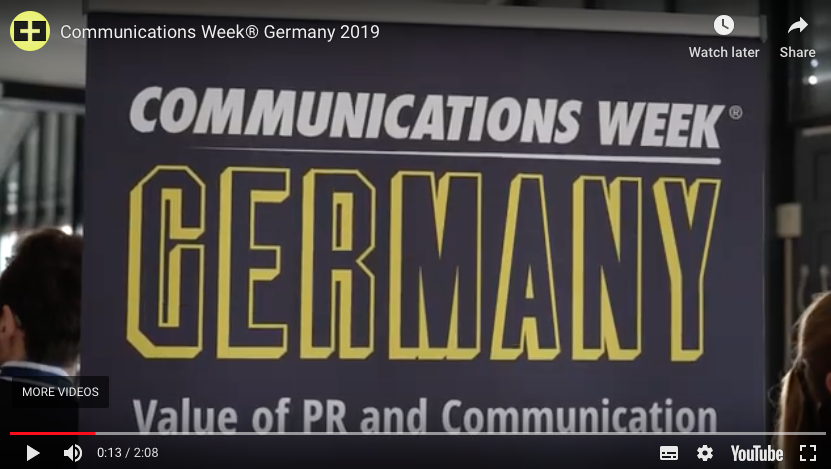 Published 22nd Oct 2019
Global Women in PR took part in Communications Week 2019 during October in three key locations – Hamburg, London and New York. The theme was the Value of PR and there were several leadership panels and thought-provoking seminars.
#Commsweek is a global event that brings together the PR, marketing and media industries.
The value of PR is being challenged as we head towards 2020. Leaders expect a new approach. With increasing pressure and marketplace demand, PR's value needs to be valued in new ways.
The three key takeaways from the week:
Measurement is key
Don't neglect emerging technologies
Approach PR with an agile mind-set
More information and a short film about Communications Week in Germany can be found here.
About Communications Week
Every year, Communications Week pinpoints some of the most pressing issues that the industry is facing. The first Communications Week covered the topic of media disruption at a time when streaming video and social TV was on the rise. As the conference continues to grow, it attracts professionals from various levels of the marketing, media and communications industries. Designed to be the voice of many and not just one, Communications Week also holds sessions geared towards business professionals who are impacted by new communications trends, from HR professionals to entrepreneurs looking to understand how to measure PR. In 2018, Communications Week expanded globally with events in New York, Toronto, London and Hamburg.
Communications Week was founded by Tiffany Guarnaccia, CEO of Kite Hill PR, a specialty communications agency. Kite Hill PR is the organizer of Communications Week worldwide.