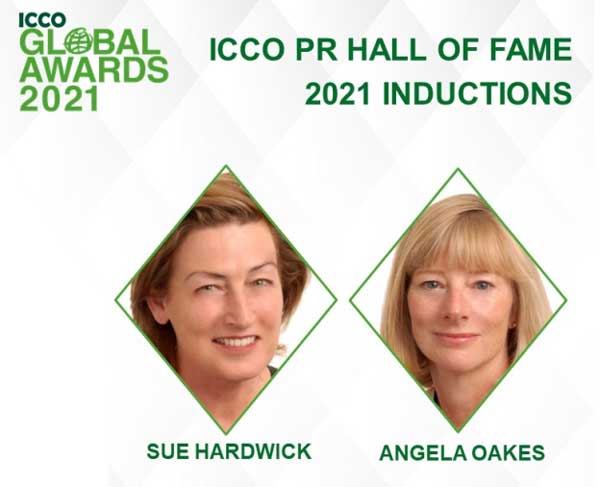 Published 6th Dec 2021
At the 2021 ICCO Awards Ceremony, held on 2nd December, GWPR founders and current Joint Presidents, Sue Hardwick and Angela Oakes, were inducted into the ICCO Hall of Fame joining some of the industry's leading global figures.
Commenting on their special recognition Sue and Angela said "we are both absolutely delighted to accept this award in recognition of the networking organisation we founded and developed. We launched GWPR as a not-for-profit membership organisation in 2015. Our goal is to champion, connect and support women in senior roles in PR and Communications all over the world.
"Over the last six years we have successfully built a truly global membership organisation, with GWPR national networking groups and affiliates across Europe, India, Africa, the Middle East, Central America and Asia Pacific.  And in 2022 the US will also be joining the GWPR global network.
"The gender issue of 'women in the boardroom' is high on the business agenda globally and although PR women dominate this industry worldwide, there remains a significant imbalance in the boardroom. We strongly believe that creating a better balance is important; not just for women, but for business as a whole. Not only do we shine a light on these issues, but we drive activity programmes to come up with solutions and help make change. Finally, we would wholeheartedly like to thank ICCO – and in particular Francis Ingham -ICCO's CEO – for having faith in us and supporting us since the very beginning."
Established in 2003, the ICCO Hall of Fame recognises those who have made exceptional progress in the internationalisation of the public relations industry, and who have combined cultural sensitivity with commercial acumen to create agencies that share global reach with local relevance.
The 2021 Class joins industry greats like Harold Burson, Richard Edelman, Barri Rafferty, Karen Van Burgen and Margery Kraus.