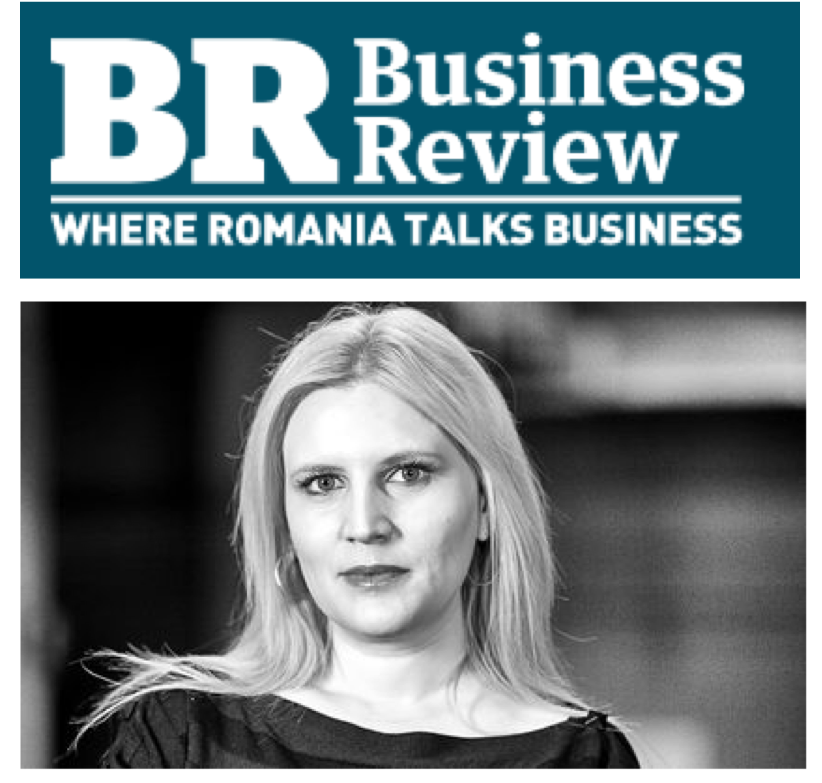 Published 24th Mar 2020
"I'd love to see more passion, critical thinking and accountability from the young generation"
With more than 13 years of experience in communication, with an extended expertise in brand and corporate, as well as CSR and digital PR, Irina Roncea, Managing Director Golin, had the opportunity to work for over 50 companies and brands, local and multinational, and to lead award winning campaigns for over 8 years in Golin. She is also a founding member of the Global Women in PR Romania.
BR talked with Roncea about how 2019 went, the trends in the industry at the moment and also how the new changes generated by the covid-19 pandemic will affect the Romanian PR industry, as well as the whole country.
By Romanita Oprea
How was 2019 for the agency in terms of turnover /revenues? What about the pitches entered? What were the most important changes & novelties in the agency in 2019?
2019 was another year of sustained growth and development for Golin, an ascendant trend we`ve been keeping in the latest years. The business with our clients consolidated and our team also. We opened a full Creative Department led by an experienced Executive Creative Director, we extended the business with our existing clients and added new collaborations with Teraplast, Impetum Group, Black Sea Oil and Gas, Globalworth, Provident, Telus, RAC (Romanian Advertising Council), Coalitia pentru Sanatatea Femeii, SACEM (Société des Auteurs, Compositeurs et Éditeurs de Musique, an international project run on multiple markets).
We focused on developing earned-first solutions for our clients, using customer experience tools, without losing the essence of PR: to build and consolidate the reputation of companies and brands, gaining consumers' attention, maintaining the relationships with media and influencers. In an era in which there is an unprecedented disruption in communication, we try to generate a feeling of pride for our profession and deliver measurable results for our clients.
Within Lowe Group's BOLD platform, we launched two studies with iSense Solutions. The first research looked into how the young generations (young Millennials & Z Gen) are taking their decisions when it comes to work, education, choosing the brands they use and to what extent they are willing to get involved in the civic life. The second study, launched in November 2019, explored how much does corporate social responsibility matter for Romanians.
Also, we continued our Digital Recap series, the yearly digital and social media analysis we do together with Alex Ciuca (hoinaru.ro) and the latest 2 editions are available for free download here: 2019 and 2020. And by working on our Digital Recaps we decided to tackle new types of content in our projects, and extended our social media strategies with executive profiling focused on LinkedIn, video content in social media both permanent and ephemeral, and developed podcast collaborations for brands such as BRD or Mercedes-Benz.
How would you characterize the local PR industry in 2019 in terms of budgets, campaigns, creativity, etc.? What trends did you notice on the local market last year and how do you intend to follow them /represent them at your agency? What do you foresee for 2020 from this point of view?
2019 was the year of employer branding and recruiting campaigns. From budgets of a few thousands euros spent on Facebook or LinkedIn, to integrated campaigns that saw spending of hundreds of thousands, everybody was recruiting in Romania and trying to convince people they are the employer of choice. So, a lot of the creative juice went into employer branding campaigns.
It was also a year of civic attitude that saw the industry getting together to say it out loud: "go out and vote", "every vote counts" and determine a positive impact in the society. And we will probably see the same attitude this year, too, when we have new elections coming up.
What do you hope for 2020 for the PR Romanian industry? What about for Golin? What are the changes you intend to bring in the agency in 2020 and why? Where do you believe to be our industry's main problems and how can they be changed?
What I'd love to see more, both in our office and in the industry, is more passion, critical thinking and accountability from the young generation. We are in the business of people and ideas, so if we don`t love what we do, neither will our clients and their consumers. I would also like to see young people coming out from schools with at least some basic skills developed – like the ability to write a good, compelling, catchy text, either it`s a Facebook post or a press article. And I would like to see people that work in our industry develop their own, personal filter and ask themselves "would I like to read this Facebook post" (on the agency side) and "would I like to be treated like this and work with a client like me?" (on the client side).
My mantra for 2020 is "Respect, trust and a happy place to be". Because if we don't respect and trust each other we can`t work happy together (colleagues, agencies and clients). And in a job that it`s not easy, like ours, working happy together makes the difference.
2020 it`s going to be a transition and recovery year after the pandemic and its effects. I hope we will get out of it wiser, more responsible and better equipped to face difficult situations at a large scale. It`s a very atypical year. Anything we planned in January has changed within weeks. Q2 will be about the measures and decisions we take during the pandemic, adding a very strange political situation we are facing in Romania in this first months of the year when we see governmental and PMs decisions changing over night in a time of global health crisis. How Q3 and Q4 will look like, we can only imagine now. We can work with optimistic scenarios but be cautious, alert and prepared for the most pessimistic outcomes.
Is the migration of seniors influencing the local industry?
Migration has always been a reality in our industry. We just looked at it as if it was The problem. Maybe it`s time to change the perspective. From my observations, it`s not that accelerated at seniors level but more at middle and junior level – and it`s normal for young people to be willing to explore and search new opportunities, to change their minds and be unsure about what they want in life, to be unsecure and difficult to commit to responsibilities, in other words to be "young and restless". One of my learnings of the latest years is that change is normal and in a world that is in a perpetual movement you can`t stay still; and that`s ok 😊 So, instead of fearing the migration of people that want something different or those who are not fit with the team and the job, we need to focus on improving our industry – and that means, again, building respect and trust – adjusting how we work to the needs and expectations of the young generations, and bringing up new talents with the "will & can" to join our industry.
How of an important role are still having the consultancy and the strategy?
Critical! Especially in a period when we face one of the biggest challenges of the last decades – a pandemic that nobody knows now how and when it`s going to end. More than ever, we need to think strategically and have a vision and a plan in place for short, medium and long term.
The published interview can be found here.