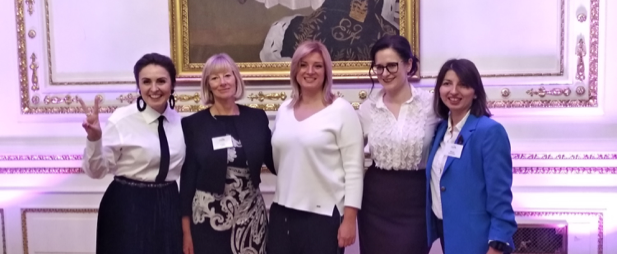 Published 7th Dec 2018
On 26th November the British Ambassador's Residence in Moscow was the prestigious venue for the opening ceremony of the Russian branch of Global Women in PR.
GWPR Co-founder and Joint President Angela Oakes addressed her welcome speech to 90 Russian communication industry female leaders who attended the event.  The audience was also introduced to GWPR Russia by co-founders: Natalia Bucelnikova (Buman Media) and Eugenia Skobeleva (Grayling Russia); along with other founder members Irina Guschina (Yum! Brands (KFC), Svetlana Artemyeva (Auchan Russia), Maria Erunova (Ozon.Travel); plus special guest Gabriela Lungu (WINGS Creative Leadership Lab).
The GWPR Russia founder members explained the key aims of the new organisation and the events programme for 2019 was outlined. Members plan to meet at events on a bi-monthly basis to share experiences and ideas in the format of discussions, round tables, analytical sessions, creative groups and retreats. Topics to be covered include: "The strategic role and perspective of communication professionals", "The younger generation: how to live and work with them" and "The communication channels of today and tomorrow".
GWPR Russia Co-founder Natalia Bucelnikova commented: "The main goal for Russia joining GWPR is to give female senior professionals an opportunity to communicate, motivate and inspire each other for further growth and development".
Co-founder Eugenia Skobeleva added: "Our goal is not just to speak about female leadership, but to create an ideal environment and a range of activities that will enable female communications specialists to develop their leadership skills."
Angela Oakes: "We are delighted to welcome GWPR Russia to our growing global community of senior women in the PR and communications industry. Congratulations on such a successful launch event in Moscow. We look forward to connecting with PR women in Russia to share experiences, knowledge and have fun!"
Event Partners:
The Department for International Trade, British Embassy,  Moscow
Ahmad Tea
Nespresso
Perrier
GWPR Russia Founder Members:
Natalia Bucelnikova (CEO Buman Media), Evgenia Skobeleva (Managing Director Grayling Russia), Irina Guschina (PR-director Yum! Brands (KFC) Russia, CIS , Central and Eastern Europe), Sveltana Artemyeva (Head of External Communications Auchan Retail Russia), Maria Erunova (Marketing Director Ozon Travel).
Contacts:
https://www.facebook.com/groups/GWPR.Russia/